In honor of Black History Month, Spectator is publishing a series on notable black alumni, scholars, activists, leaders, and more whose stories we wish to honor. Audre Lorde, a civil rights activist and writer, would be the first black woman to have a space named in her honor on Columbia's Morningside Campus.
Columbia has renamed a community space within the Office of Multicultural Affairs after Audre Lorde, a writer and activist who proudly labeled herself as "black, lesbian, mother, warrior, poet." During the 1960s to 1990s, when Lorde was active, she ushered in a new era of scholarship that created room for queer black women in academia.
During her life, Lorde did what few others had the space to do. After earning a master's degree in library science from Columbia in 1961, she went on to establish herself as a voice for otherwise voiceless communities in literary and academic communities. The themes of Lorde's writing ranged from love and family to her African heritage and queerness. By tackling these themes, Lorde began creating unprecedented space for underrepresented identities in academia.
On Feb. 18, the University held a ceremony in OMA's office in Lerner for the dedication. The event was attended by nearly 100 members of the Columbia community. As Lorde's name graces many first-year syllabi at Columbia, students, faculty, and staff of various identities recognize how she created a body of work that affirmed their experiences at Columbia.
Kwolanne Felix, CC '22, was a participant in the Academic Success Program cohort, which is designed to prepare and develop students throughout their journeys at Columbia starting before their first year. Most Columbia College students are introduced to the University's curriculum through the "Iliad," assigned during the summer before their first semester. Instead, Felix spent that period reading Lorde.
What she found was a writer who perfectly outlined a reflection of the world she was about to encounter as a Caribbean, black, queer woman in academia.
"Being able to read her piece kind of informed my lens as to even going into school and what academics could look like," Felix said. "I think that's why I truly enjoy coming to these spaces of academia, [to be] in conversation with Lorde and learning from various amazing perspectives that color my life."
In teaching First-Year Seminar: Feminism & the Politics of Anger, professor Meredith Benjamin integrates Lorde's writings to talk about the use of anger in propelling the feminist movement.
In "The Uses of Anger," Lorde argues that anger can be productive in holding accountable those who exclude women of color and trans women. Benjamin said that assigning Lorde as the first reading of the course "is a helpful challenge, as we talk a lot now about women's anger and how that's motivating a lot of protest movements."
Benjamin intentionally selects these texts for her students to be familiarized with ways to communicate the difficult issues with which they struggle in a stratified world.
"She offers a framework there for helping students to think in a truly intersectional way about what they see happening," Benjamin said. "I think they help give students a language for some of these concerns and difficult issues that they're trying to grapple with."
For New York resident Freida Walker, Lorde's language contributed to her finding her voice as a writer. Walker, who comes from what she describes as a "traditional" family, grew up longing for queer representation—something she found in Lorde's writings. Despite not being affiliated with Columbia, Walker attended the ceremony to honor the legacy of a writer that was profoundly impactful to her journal.
"I write, I'm a writer, so [Lorde] was like one of the first pioneers that I could look toward," Walker said.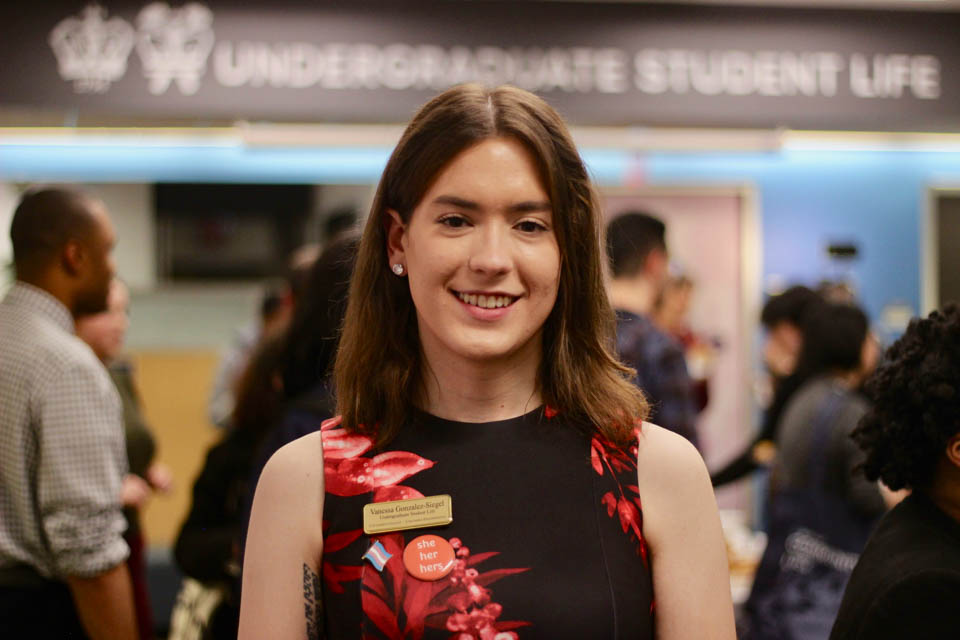 Vanessa Gonzalez-Siegel was met with the challenge of finding her space as a trans woman at a large undergraduate institution where underrepresented identities seemed to be lost in the dominant crowds. It was through multicultural spaces on campus that she learned the value of embracing her identity while protecting the right for others to do the same.
As the associate director of multicultural affairs and LGBTQ outreach, Gonzales-Siegel says that the community built around the office is informed by the work of Lorde and that without it, she wouldn't have found a home and her life's purpose.
"Our racial identities, our gender, our sexuality all exist together, and we can't build a coalition of community and strive toward liberation without celebrating all of those identities together," Gonzalez-Siegal said.
Crystal Foretia, CC '23, remembered hearing a quote that helped her understand that the impact of policies changes from person to person, according to their own identities: "There is no such thing as a single-issue struggle because we do not lead single-issue lives." This quote deeply impacted Foretia's political decisions, particularly in analyzing her experience as a black woman. These words remained deeply influential to her, despite the fact she knew nothing about Lorde before coming to Columbia.
"I think Audre Lorde, in her ideas—her name's not as known—but I think her ideas are incredibly relevant to this day," Foretia said. "It very much reflects Kimberlé Crenshaw's theory of intersectionality and how all of our identities have an effect on how we're treated in the world and how we experience different policies, particularly when it comes to black women and also gender identity and sexuality and other factors like class."
Lorde is considered a foundational feminist thinker who has challenged her readers in re-thinking conventions, particularly surrounding sexuality.
When Lorde wrote "women so empowered are dangerous" in her renowned essay about eroticism, she knew that many people were too ashamed to pursue their fulfilling desires. Xaelah Jarrett, CC '15, found community with other queer students of color in the Columbia organization Proud Colors. She remembered the conversations about erotic pursuits as "transformational" in allowing some freedom from the racism and sexism that she said pervaded Columbia through its "white, cis, straight dominant [identity]."
"[The erotic is] inherent in a lot of queer and trans students lives, because of gender play and sexuality are so much about pleasure," Jarrett said. "I think Lorde really gave us that opportunity and that lens to use the erotic as a way to build community and to work together."
Staff Writer Dia Gill can be contacted at dia.gill@columbiaspectator.com. Follow Spectator on Twitter at @_diagill.